Electronic consultant BOSCH
Designed by our team electronic consultant for BOSCH have been available for visitors of OBI (Khimki). During this time, more than 1000 people have used the system. In this project, our software works on the touch panel of the ICRE.
ICRE
.
What is e-consultant?
This is hardware-software Complex that will provide customers with full information on products and services, contacts, reception time, photos, videos and much more. Electronic consultant can be used at any field: business, medicine, education, Reg. Service, museums, recreation, entertainment, etc. EC's always polite, can't be sick or out on the break and you did not have to pay them salaries.
The main task of the electronic consultant BOSCH — providing information about the company's products. Items are grouped into different categories and subcategories: «Assembling furniture and wooden structures», «Drilling in concrete, brick, plaster or wood,» «Digital measuring tools», «Grinding of different materials» and so on.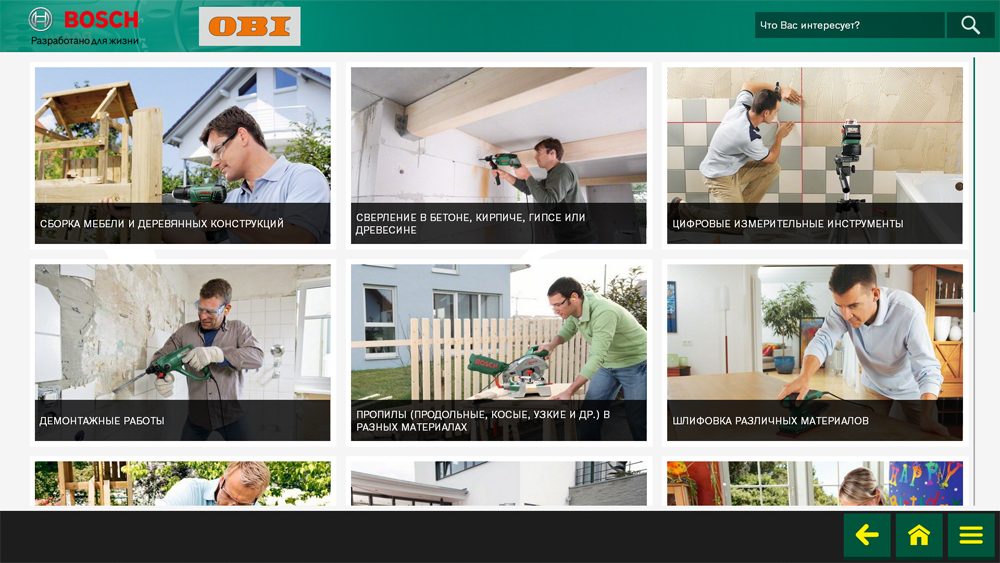 In each category, the list of products included in it are presented (name, image and short description)
The product card consists of image, a detailed description of the product, a gallery with examples of usage, videos, specifications, accessories and similar products.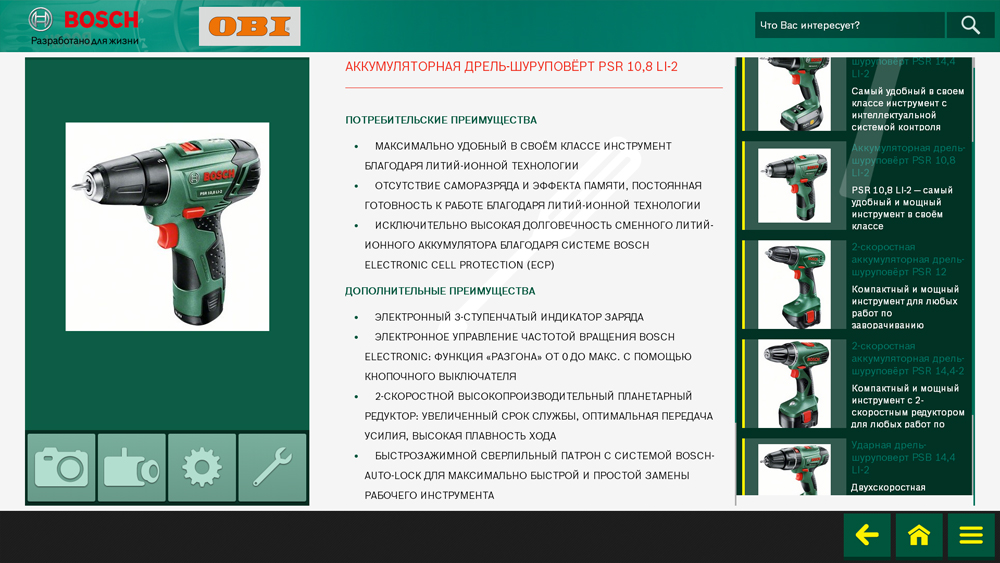 Gallery — is a great way to show your product with the best hand. Bright and colorful pictures will adorn any information system.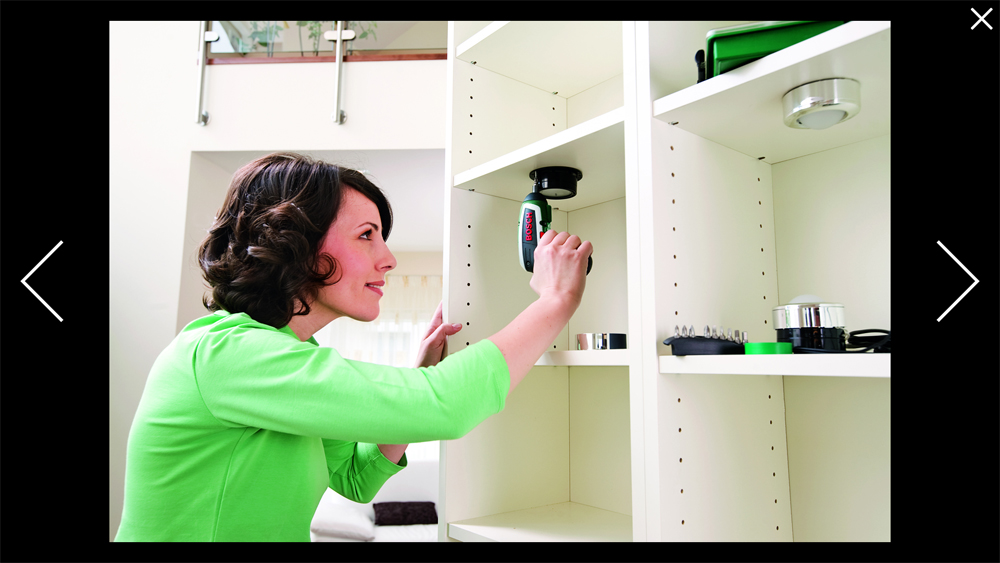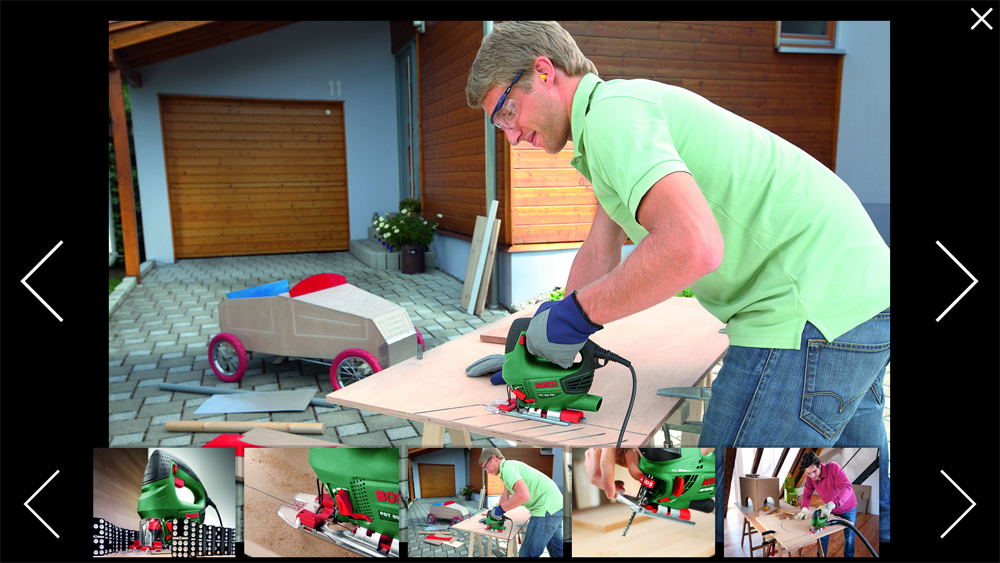 Videos helps visitors to get a complete picture of the goods ability.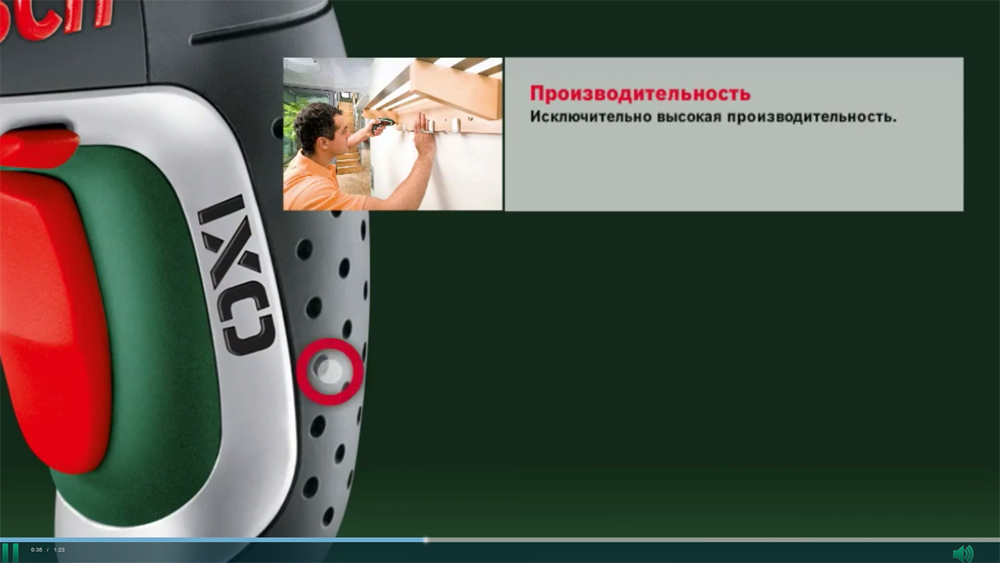 For many buyers, product specifications are very important, so they are collected in a separate tab.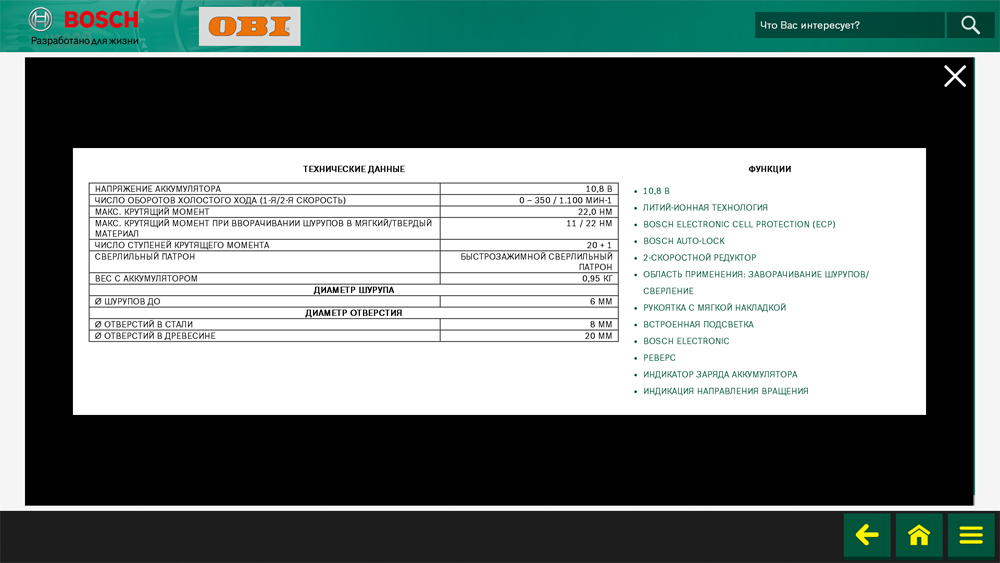 The system has the ability to view additional tooling products.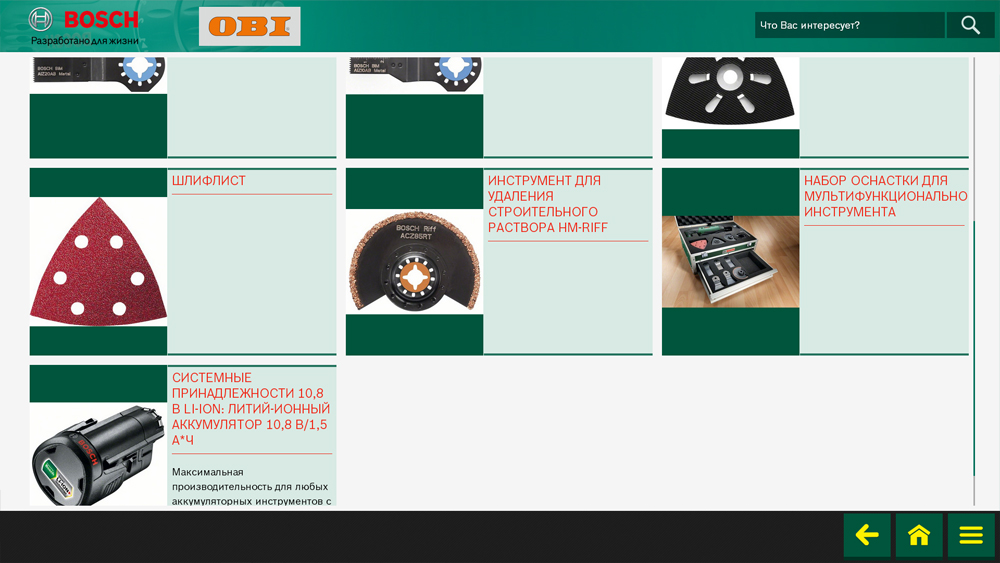 The system based on the
Urban CMS
, running * nix and has a client-server architecture. Changes in the information content produced on the server. Clients (touch panel) on the schedule picks up and applies the update. Monitoring allows you to quickly identify and troubleshoot problems with the panels, and statistical information on the Sites section provides new opportunities for marketing department in analyze of buyers interests.
Representatives of the company BOSCH were pleased with the results of the electronic consultant and is planning in nearest time to install another 5 panels at various points.
In the presented video you can check out the system.
We can say with confidence that electronic consultants is highly relevant and useful direction in IT. Of course, the economic effect of their introduction is not as obvious as the electronic cashiers, but it's a big step to your customers.
We are all faced with situations where a consultant is out or too intrusive when it lacks competence in certain matters. When shopping trip leaves the most unpleasant experiences. Electronic Consultants deprived of such shortcomings and always willing to improve. Do not forget about the ability to track changes in the interests of your clients — Electronic consultants shows in figures buyers interest. For companies who are not able to keep the full range of products at every point of sales — Electronic Consultants is a great way to show product with the best hand and to provide full information about it.
We are always glad to advise you on the electronic cashiers and consultants – call +7 (499) 755-9864, +7 (499) 755-8964 и or e-mail 
info@urbansoftware.ru