Urban Money Electronic Cashier
Online demo-version of the system
When machine tools had appeared in the factories in the 19th century, thousands of people lost their jobs. They had to change their profession, because the machine was faster and better than humans. Owners of factories increased their income tenfold.
Today, any small and medium business' owner can increase the income as well by replacing his cashier, promoter, administrator and vendor by electronic cashier Urban Money.
What is Urban Money electronic cashier?
Electronic cashier is a terminal, consisting of a computer and a touch screen, able to recognize and accept bills and coins, and even dispense change (this possibility depends on the hardware configuration). Terminal can read and recognize barcodes, consider discount coupons and bonus cards.
In Western countries, electronic cashiers have been used successfully for over 10 years in many different places. For example, since the implementation of payment terminals at McDonald's, the queues have disappeared there. Now you can simply choose on the terminal what you want to order, insert a plastic card or cash to pay for, and, having received the check with your order, wait until it's ready.
What is the field of Urban Money cashier's implementation
Car wash and gas stations, service and medical centers, dental clinics, educational institutions, theaters, cinemas, amusement parks, entertainment centers, bookstores is not a complete list of possible electronic cashier applications. It can be used in any business area service related. Urban Money cashier can replace any human cashier, and it can perform work of promoter, consultant and administrator as well.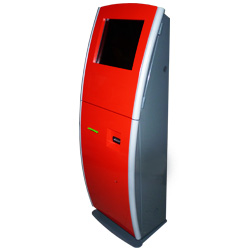 What are the advantages of Urban Money electronic cashier?
Reduced costs
It should not be collected daily — all money is stored in a safe.
It is not mistaken in accepting and issuing banknotes.
It never gets sick, does not require salary and vacation.
Has a fiscal control that eliminates the cash registers.
Has built-in detector of authenticity of banknotes.
Works without breaks and weekends.
Takes up little space.
Increased income
Payment process goes faster.
Accepts credit cards.
Provides customers with additional products and services.
Extra services and service level increase at no cost
Can print tickets and coupons.
Can provide information and advice to visitors.
Provides further company's information printed on the check and displayed on the screen.
Never forgets to thank to the clients.
Other functions related to the features of your business
Convenience and simplicity
You've got the accurate information on the revenue amount at any time.
Terminal can report in advance (by e-mail and SMS) of the check tape's finishing.
Can export data on payments to 1C.
Payback period
Investments made for the electronic cashier will pay off in 4-5 months, but you can feel the benefits at once — costs for internet and electricity are not comparable with the salary of an ordinary cashier.
What is your benefit of Urban Money electronic cashier
Selectable terminal design, colors and branding.
Full functions setting for the tasks and requirements of your business particularly.
Selectable fiscal / non-fiscal operation.
Ability to send information on each 1C payment to your website, personal office or to any database.
Remote access to information on the amount of money in the terminal safe.
Selectable electronic components, depending on wishes and possibilities.
Delaying the decision on Urban Money?
If your competitors implemented electronic cashiers in their business, they would get a strong advantage. They could reduce costs and increase their profits (get increase of the payment transactions' number and average check increase, etc.). They could open additional services for their customers and expand the target audience as well. But what can you do with that?
Are you still not sure?
For those who can make a quick decision, we are ready to make a unique offer. Second license for any software product is for just 10% of the cost. It's a Limited Time Offer.
Book a free consultation right now by calling: +7 (499) 755-98-64 or +7 (499) 755-89-64.
* All images on this page are for informational purpose only. Your terminal look may be different, depending on requirements.