Urban CMS is ready for school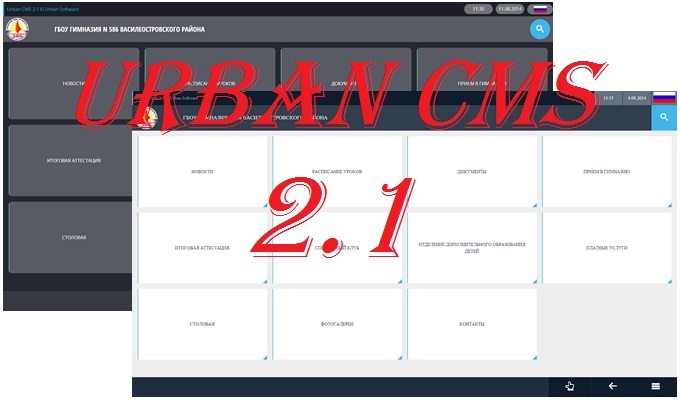 The universal system for touch panels and kiosks Urban CMS more than a year successfully used in various educational institutions (universities, institutes, colleges, schools). During this time lot of changes was made. So we annonced the releaseof the new version – 2.1. As before, a basic purpose of Urban CMS – providing information on educational institutions.
The structure of any complexity can be developed in the system: galleries, sections with lesson schedule, contacts, normative documents and other. In a screensaver mode (when nobody uses a kiosk) videos and a slideshow from images can be displayed on the screen.
Special templates exists fo rnews, events and actions in system.
Photo and Video galleries is an excellent way to present colourful life of your educational institution. In the new version of system the gallery had new design and functionality.
The search panel will help to quickly get  access to interesting for user information.
There were 6 templates of design in Urban CMS 2.0. In CMS 2.1 there are only two templates, however now it is possible to change their colors. In the administrator panel it is possible to set colors for more than 20 various elements that will allow to create interesting stylistic decorations and to emphasize identity of educational institution.
The system menu can be used to acess to the main system sections. In the new version more than 10 various options of the menu appearence are realized.
Working with system content is similar to work with the usual website and is carried out via the control panel. At any time the administrator can receive the reference on exact section by clicking on a badge «?».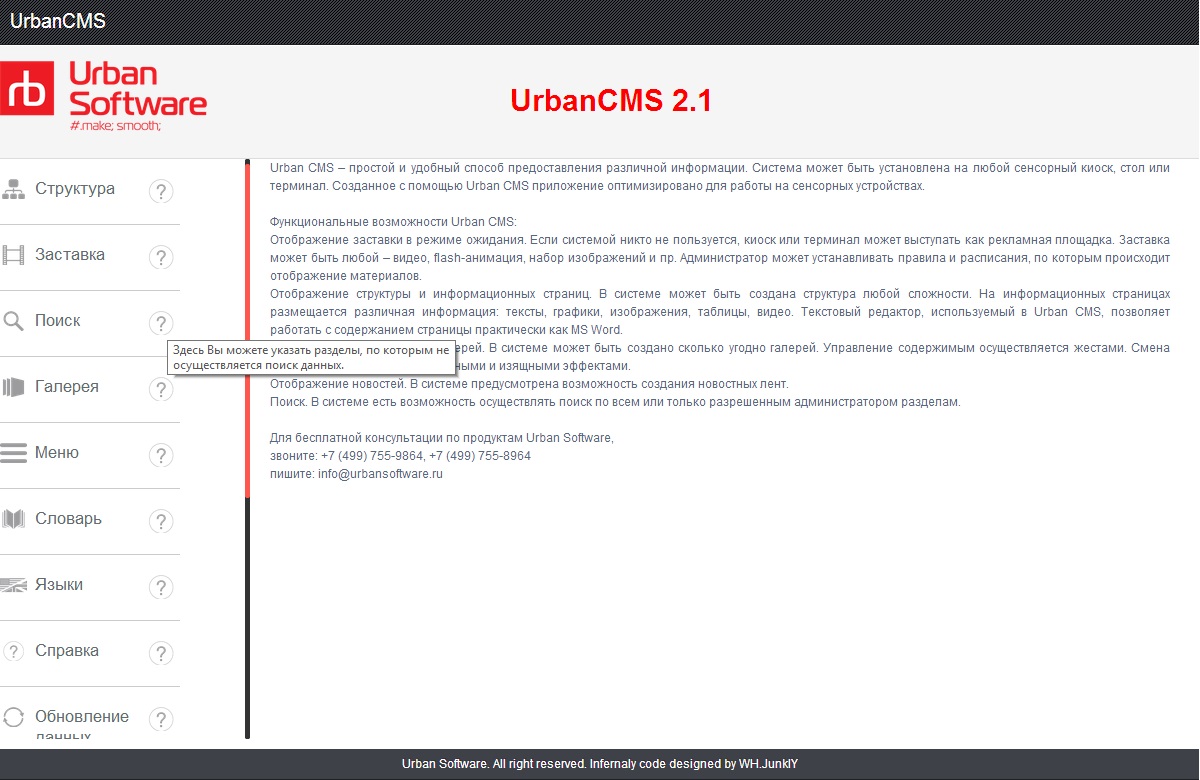 One more innovation — possibility to shutdown the support of multilingualism and special opportunities of system.
What is the porpose of the Urban CMS 2.1?
It is convenient. All the information about educational institution is in one place. It is not necessary to make out the schedule and to hang it on a wall. It is not necessary to allocate the separate stand under announcements. There is always a place where it is possible to learn conditions of receipt, training or study normative documents.
It is interesting. Publication of news and announcements with colourful photos and videos will attract additional visitors to your actions.
It is modern. People who got to an unfamiliar place, start looking for information sources, and touch panels and kiosk atract their attention first of all. Children and teenagers prefer to interact with touch systems than with printing data sources.
It is practical. It is possible to operate system remoutly,  all that necessary is that the kiosk or the panel were in the general network. You can simly change time of occupations, change working hours or to add news.
The cost of the client-server license for system is 300 EUR. Additional client licenses stand 100 EUR.
We are always ready to consult you – please call +7 (499) 755-9864, +7 (499) 755-8964 or send emails to 
info@urbansoftware.ru